Visa Information
Visa Support Letter Requests
You should register for the conference to receive a VISA letter. The ICTer committee will provide visa support letters to attendees and authors with accepted papers upon request. Please refer all requests to ………………….(email address)
The information below will be asked for a VISA invitation letter:
Name as it appears on your passport
Job Title
Institution
Phone
Gender
Nationality
Address
Passport No
Date of Birth
For Sri Lankan Visa
All Tourists or Business travelers to Sri Lanka must have Electronic Travel Authorization (ETA) for entering Sri Lanka. Please visit https://www.eta.gov.lk for more information.
For more information regarding the types of visas please visit the official website of the Department of Immigration and Emigration of Sri Lanka. 
Getting There
Conference Venue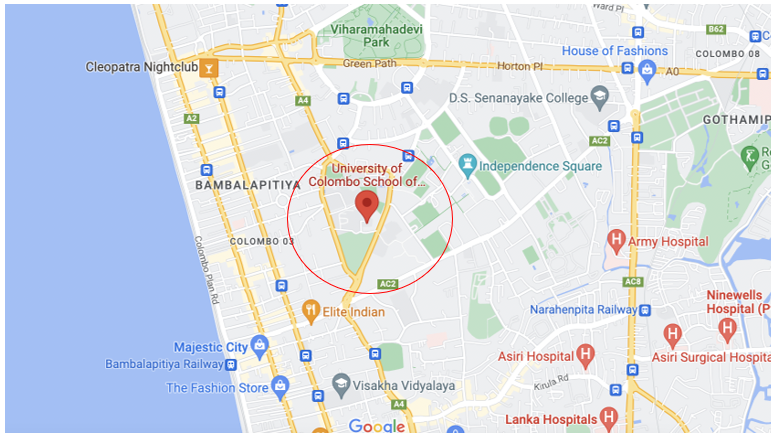 ICTer International Conference 2023 will take place at the University of Colombo School of Computing (UCSC) in Sri Lanka, from November 7th to 10th, 2023.
The main conference proceedings will be held in the multi-purpose auditorium housed on the 4th floor of the new building at the UCSC which has theatre-style seating with approximately 325 seats downstairs and 98 seats on the balcony located on the 5th floor. It also has a State-of-the-art Digital Podium with HD AV Media Control System and a JBL Line Array Sound Reinforcement System powered by a Crown mixer and power amplifiers.
Directions to the Venue
Getting to the location of our conference is easy, convenient, and affordable . We provide a selection of transportation recommendations below from Colombo International Airport Ratmalana, Sri Lanka.
Option 1: Taxi
A taxi ride to the conference venue takes approximately 30 minutes and will approximately cost 1000 LKR by a Three Wheeler (Tuk tuk), and 1500 LKR by Car. (These prices may vary according to different factors – traffic, time of the day)
We have a few suggestions for mobile apps that you can use to rent a taxi.
Option 2: By Bus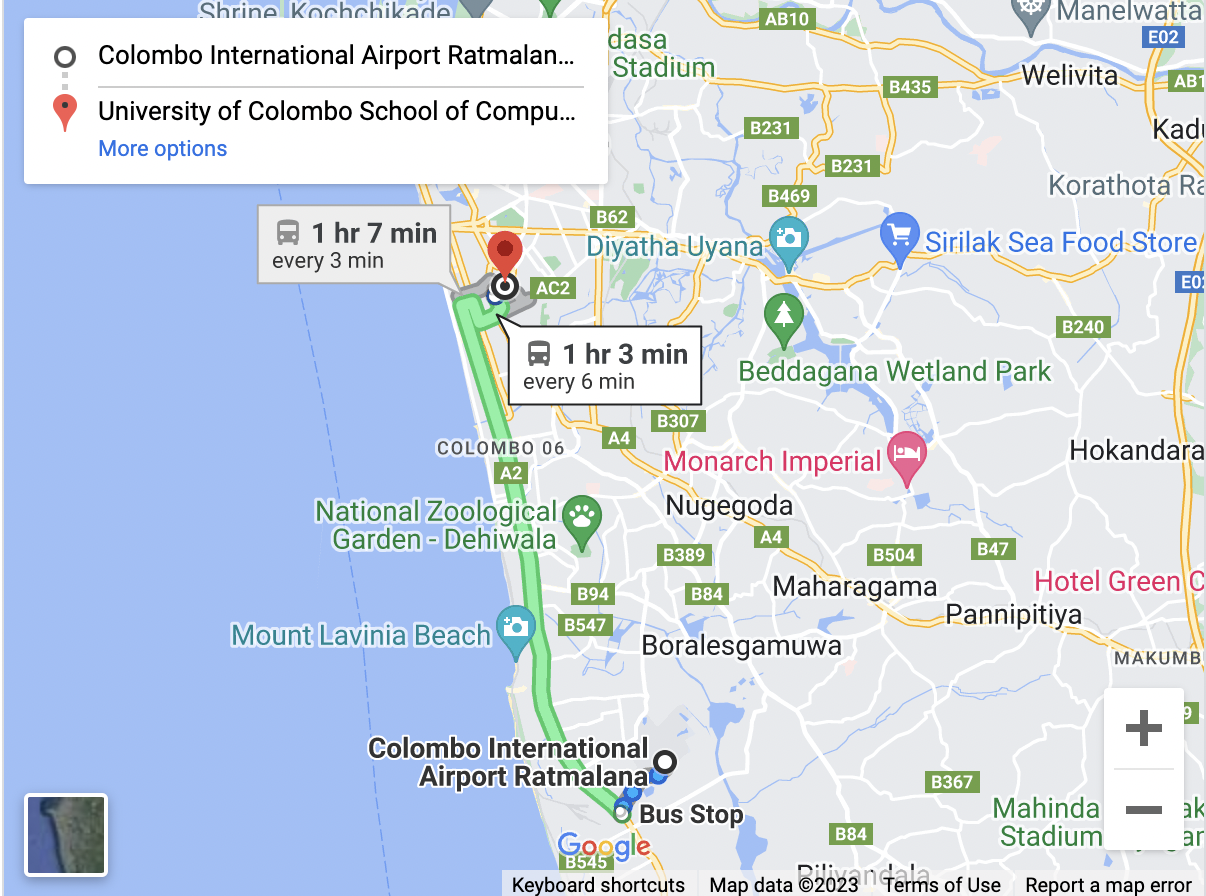 Tourism
About Sri Lanka
Sri Lanka, also known as the "pearl of the Indian Ocean," is a beautiful island located in South Asia. With a rich cultural heritage and a diverse landscape, Sri Lanka offers a unique experience to visitors.
Sri Lanka has a long and storied history, with evidence of human settlement dating back over 35,000 years. Over the centuries, the island has been ruled by various kingdoms and empires, each leaving its mark on the country's culture and architecture.
Today, Sri Lanka is a vibrant and modern nation with a booming economy and a thriving tourism industry. Visitors to the country can enjoy a wide range of activities, from exploring ancient ruins and temples to hiking in the mountains or relaxing on beautiful beaches. In addition to its rich cultural heritage, Sri Lanka is also known for its incredible biodiversity. Sri Lanka boasts a diverse and flavorful cuisine that is a harmonious blend of various spices and ingredients. It's a wonderful tourist destination that offers something for everyone.
Places of Interest in Sri Lanka
Around Colombo

This Buddhist temple is a beautiful and peaceful place to visit in the heart of Colombo. It features a museum, a library, and a large collection of religious artifacts.
National Museum of Colombo:
This museum is a must-visit for history buffs. It houses a collection of artifacts and exhibits that showcase Sri Lanka's rich cultural heritage.
Old Colombo Dutch Hospital:
This restored colonial-era building is now a shopping and dining complex. It features a range of boutique shops, restaurants, and cafes in a beautiful historic setting.
This bustling street market is a great place to shop for souvenirs and local goods. It's a colorful and lively place to explore, with vendors selling everything from spices to textiles to jewelry.